Lesson B.1 What makes misinformation and disinformation better terms to use than "fake news"?
What makes misinformation and disinformation better terms to use than "fake news"?
---
HEADS UP! Think of 3 common reasons why someone intends to spread "fake news".
Example: Someone wants to destroy another person's reputation.
---
There's a reason why we have been using the term "fake news" inside quotation marks. It's because in spite of the popular use of the term, experts actually recommend the public NOT to use it. They argue that "if it's fake, it's not news" which means the words "fake" and "news" are not supposed to go together. Moreover, people's understanding and use of the term has become vague and varied through time. "Fake news" has been used to label many different kinds of content from simple lies to rumors to outdated information to propaganda.
Some "fake news" are not completely 'fake'; some are just misleading while some are genuine but used out of context. Also, most content that is deceptive in some way are not made to look like news at all (e.g. memes, tweets, videos, etc). To add to these, the term "fake news" has been weaponized; it has become a term used by politicians and other groups to attack and question the credibility of many professional news media around the world.
So, to avoid the confusion that comes with the use of the term "fake news", we recommend using the terms Misinformation and Disinformation. Collectively, Dr. Claire Wardle, co-founder and leader of First Draft, refers to these as the Information Disorder — "the many ways our information environment is polluted."
Disinformation vs Misinformation
You may have heard these terms used interchangeably to talk about the issue of the infodemic. However, it is important to be able to distinguish them to understand how they are created and how they spread differently. 
So, how does disinformation and misinformation differ? Just one thing: INTENT TO HARM. While misinformation and disinformation have more or less the same harmful effects, they are spread NOT for the same reasons. People who spread misinformation are those who are just misinformed; they have no intention to deceive or do harm to others. This makes them slightly less guilty compared to those who spread false or misleading information with clear intent to harm (i.e. disinformation). 
Moreover, it is important to note that, unlike misinformation, disinformation operates in an orchestrated manner; meaning, there are organized, coordinated, and well-funded systems that run it. Political disinformation, to be exact, is run by professionals. It is a vast network that connects fake account operators to digital influencers all the way to the chief architects in the advertising and PR (public relations) industries. This shows that disinformation is a much more complex and grave problem than misinformation (i.e. making an honest mistake of sharing false information). Putting them both under the umbrella term "fake news" blurs this distinction, and does not help us in crafting the right solutions to our problems.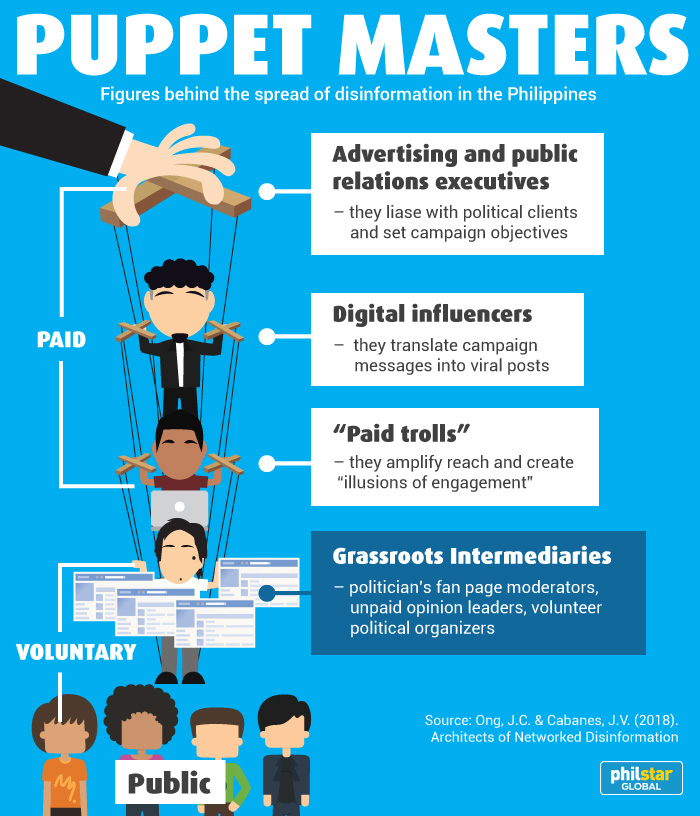 ---
TWEET YOUR THOUGHTS. In the simplest way you can, as if you are talking to an 8-year-old, explain why using the terms mis-/disinformation is better than "fake news".
Tweet us at @ootbmedialit and use the hashtag #IWASFAKE.
---
FOR THE NEXT LESSON, you will zoom in further on misinformation and disinformation and learn about the seven (7) types of content commonly found in the infodemic.